I would like to handle my anxieties with holistic treatments, what do you suggest? 
DR. TATE'S ANSWER
Thanks for your question!
Ayurveda means "perfect knowledge" in Sanskrit. It is a traditional medicine from Ancient Indian. The sister of Yoga. (If you have never heard of Ayurveda, do a search and you'll find loads of information!)
The assumption in Ayurveda is that there are three elemental substances in the body called doshas. They are Vata, Pitta, and Kapha. At each moment these doshas can be in states of aggravation cause emotional and physical health to be compromised. The treatment of Ayurveda seeks to pacify these doshas.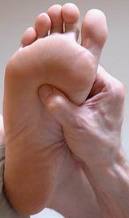 In mental health, generally, Vata aggravation is marked by anxiety, Kapha aggravation is marked by depression, and pitta aggravation is marked by anger. Ayurveda is what I studied and practiced when I began my personal journey out of Anxiety. Enjoy reading this article I read August 28, 2013, from Jodi Lobozzo Aman.  Enjoy
Focusing on pacifying Vata,
Here are five of the practices I took into my life:
1. Get warm.
(Cold aggravates Vata, warm pacifies it.) Drink warm milk with honey and saffron. Put a hot water bottle on your feet. Take a warm bath. All of these are helpful things to do at night before bed so that Vata aggravation doesn't keep you up at night as it can tend to do!
2. Oil.
Vata is dry and airy. You might find yourself "up" and stimulated. Windy. Oil helps tether you back to earth. Put sesame oil, or olive oil, on your back (over your kidneys) and on your feet. While massaging the oil into your feet, put pressure in the center right under the ball of the toes- see photo. (Can be calming during a panic attack.) You can also oil and massage the top of your head, or your forehead and temples to settle the monkey mind. When I was in recovery, I did a full oil massage of my whole body before my shower each morning. (This is called Abhyanga.) Then, I oiled my feet, back, and head before bed.
3. Breathe.
Yogic breathing is called Pranayama. Taking time each day to breathe helps settle your nervous system. Which is exactly what we need to do! There are many types of yogic breathing, but my favorite for anxiety is alternate nostril breathing (Nadi Shodhan). Go to YouTube, type in the words Nadi Shodhan. YouTube has a good description for you to try it. This incorporates the right and left brain settling the aggravation and smoothing them into sync. Meditation after some conscious breathing is heavenly!
4. Eat a Vata pacifying diet.
Kindly avoid sugar, caffeine, carbonation, cold/raw or frozen foods when you are trying to pacify Vata. Vata likes salt, sour, sweet, oily and warm. Warm soups are nice! A substantial breakfast, oatmeal, for instance, is good for settling anxiety. Sweet fruits are good. Drink warm water instead of ice water.  Research for specific Vata pacifying foods.
5. Do yoga.
Forward bends settle anxiety. Sit and come forward onto your lap. Bend at the hips so your weight is not being carried by your back. Do the child's pose. Stand and let your upper body hang from the hips. Downward facing dog. All good. Hold poses longer when trying to pacify Vata. Flowing yoga classes are not good for Vata.
6. Follow a routine.
Meditating, eating, exercising at the same times from one day to the next, can have immeasurable good effects on health. Wake up and go to sleep at the same time each day. If a routine is all you change, you will feel a difference in mood and overall health. If you change one thing, you can change everything!
Are any of these things that you see taking into your life?
---
GOT A QUESTION?
---
WANT MORE?
Subscribe to our newsletter and receive Dr. Tate's
journal entitled, "Lessons from the Abyss."